We currently have several tiny homes and park models on our lot. Click on any of the photos or model names below for more specifics such as pricing, photos, virtual tours, floor plans, and features.
The Athens 527 - PENDING SALE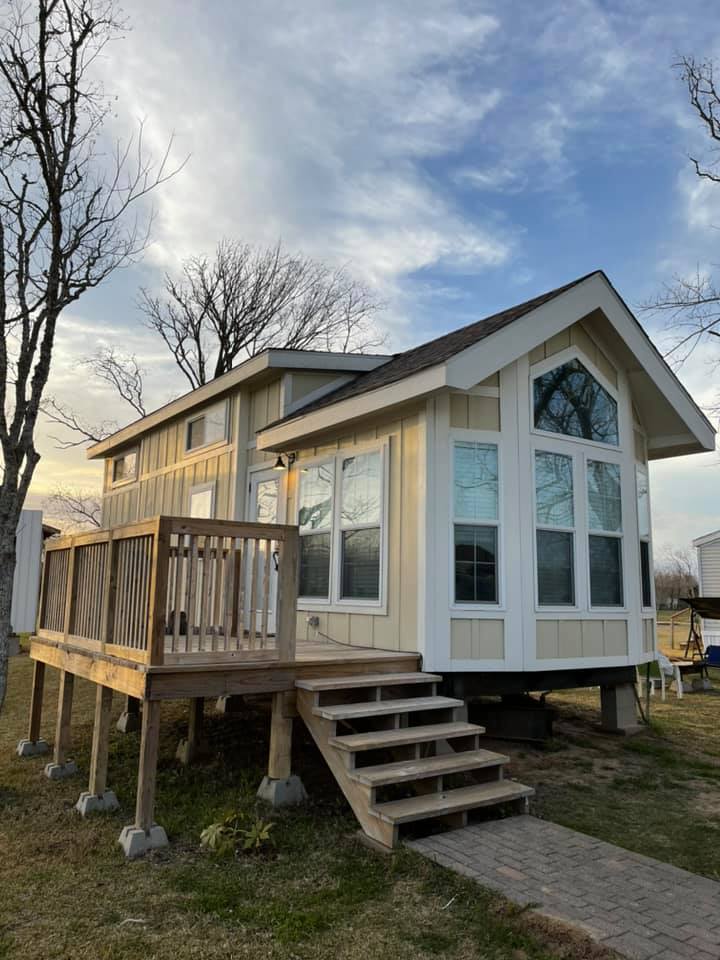 This is a simple yet spectacular tiny home built by Mint Tiny House Company in Delta, B.C., Canada. Built on a 22-foot trailer, it has a storage box in front and a large fold-down deck in the back and french doors leading into the living area. The large sleeping loft above the kitchen can accommodate a king mattress, and also features a built-in 4-drawer storage unit. The smaller rear loft is good for storage and can also fit a twin mattress. Bookshelves adorn the edge of each loft facing the living area, and a fold-down dining table can also double as a work desk. The kitchen features an electric 2-burner cooktop and can accommodate either a full-size fridge or a mini-fridge with an extended countertop.
This is the tiny house that started it all for us! This model was custom-designed by Saleem and built by Mint Tiny House Company in Delta, B.C., Canada. Before he could move into it, Little Homes of Texas was founded, and this became our office for over a year until we moved to our current location in April 2018. It's built on a 30-foot trailer with exterior storage boxes on front and back. It has two rooms on the ground floor (bedroom and living room) and two lofts for sleeping and/or storage. It has lots of interior storage and several add-ons that make it nearly off-grid ready (fresh water and grey water storage tanks, water collection system, propane water heater and range, composting toilet, and more).
Questions about any of our models?
Contact us with your questions and we'll get back to you asap!